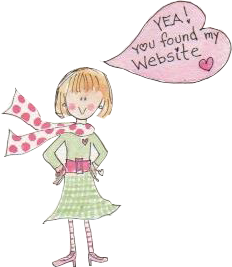 Mary Ann Johnson
Greeting Card Artist in Crystal Lake IL
Hi! I'm Mary Ann Johnson, a greeting card artist located in Crystal Lake, Illinois.
Thanks for finding my website! There are a lot of them out there so I am a LUCKY GIRL that you found mine…
I create greeting cards, personalized gifts, and custom illustrations in a FUN and HAPPY, maybe you'd even say WHIMSICAL style. I create art that speaks from the HEART and centers around friendships. And hopefully, it will make you SMILE, too!
We all look and feel better when we smile. Life is too short…So SMILE and choose to be happy today….Maybe you'll make a new friend. My friend, OPRAH, says "everything is more fun when you have someone to share it with.."
Share your HEART with your FAMILY and FRIENDS. That's what really makes our HEARTS SMILE!
XOXOXO

friendship…
it's IMPORTANT for HAPPINESS